Description
If you enjoy SD puzzles with a great price to solve ratio, then this is certainly one to have! 369 is a PLA printed Sequential Discovery Puzzle by CreativeWorkshopCA. I rate it at level 6-7 difficulty. Very rewarding solve! Includes instruction card and solution/reset instructions! 
Shipping calculated at auction end. Asking for F&F PayPal payment based on rating and feedback. If you have concerns, please ask before bidding.

Description 
"369" Puzzle Box - 3D Printed / Magnetic / Mechanical 
"369" Puzzle Box - Mechanical / Magnetic Puzzle box.
Why is it named "369"? Because this puzzle is 3cm thick, 6cm tall, and 9cm wide(LOL).
A simple yet challenging puzzle that uses 29 pieces of different size magnets; utilizing the mechanical and magnetic characteristics to lock this puzzle in place. Your goal is to unlock and open it, how long will it take you?
3D Printed in classic bronze / Silk Dark Gold PLA gives it an exceptional look. 
Place it on your office/home desk as a desk toy to entertain your visiting guests.
A brain teaser, the perfect gift for any occasion.
Dimension:  3cm x 6cm x 9cm.
Weight: 120g.
Pre-assembled.
* PLA is a renewable/biodegradable material made from crops such as corn and sugarcane. It has a low melting temperature and will deform if placed inside a car on a hot summer day or directly under the sun for a long period of time.
** Warning: Contains small parts, magnets, not for children under 15.
Payments & Returns
Payment Methods

PayPal
Post Message
Sign in
to ask the seller a question.
I accidentally bought two and didn't even realize it in my rush to check out! Now I have an extra and it was too costly to ship back! Apologies for the stock photos as ...
StacyS (61 )
2 bids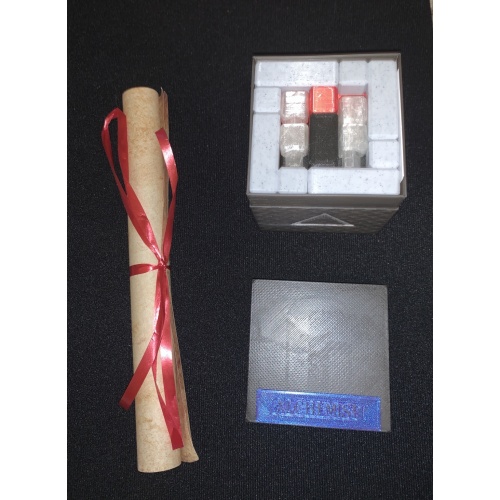 Selling my Alchemist Cubes puzzle. Numbered #14 of 35!Prefer PayPal Friends and Family. Please review my ratings or if concerned, contact us before bidding. Shipping calc...
StacyS (61 )
1 bid