Description
Cigar cutter trick lock

 (a.k.a. 

Bashful lock

), by 

Charles Tayler (1915 US patent 1136735). 

A neat novelty lock. Try to pull apart the clasps, it won't budge, but there's a trick. Shown in Ramsay's youtube video: 

https://www.youtube.com/watch?v=UoV3MEmL1_g

Key-maze

, by Oskar van Deventer (metal). https://oskarvandeventer.nl/templateOskar/templateOskar/images/Caviness_Puzzle.pdf

Lucky clover

, by Oskar van Deventer (Bits&Pieces). http://mypuzzlecollection.blogspot.com/2010/06/lucky-clover.html
Bitten Biscuits, by Jin-Hoo Ahn (honorable mention at IPP 2016). https://www.youtube.com/watch?v=6n95RvrMMDQ
Horseshoe "Tokyo Tower", unknown designer (Hanayama)
Anti-Slide, by Wil Strijbos (Hanayama). https://www.puzzle-place.com/wiki/Anti-Slide

Fidgitz 

(a.k.a.

 Bram's magic

), by Oskar van Deventer and Bram Cohen (ThinkFun)
Three Cubes, by Kohno Ichiro (https://cubicdissection.com/products/three-cubes-puzzle)
4 different disentanglement metal puzzles, unknown designer
Some "aha! brainteasers" from ThinkFun:

4-piece jigsaw, 

by Keith Wineger (1995 patent by Harry Nelson & Kenneth Walker)

4-piece pyramid,

 by Wolfgang Schneider
2-piece pyramid, by Edward Johnson (1940 patent)

Pack it in 

(a.k.a. 

Slothouber–Graatsma cube

),

 

by Jan Slouthouber & William Graatsma (mistaken for "Conway cube")

Fifth chair, 

by Dale Walton

All uphill,

 by Frederick Swithenbank (1913 patent)

Double square,

 unknown inventor (but appears in a 1934 catalog of Johnson Smith company)




Four T,

 unknown inventor (but re-designed 

by Eduard Bakalar & Peter Hajek as 1993 IPP exchange puzzle)

Double rings,

 unknown inventor

Wing it,

 unknown inventor

Star burst

 (a.k.a. 

CCO burr

), unknown inventor
Blockhead (

a.k.a.

 

Square fit

), Bill Cutler -- http://allardspuzzlingtimes.blogspot.com/2011/04/blockhead.html

, and 

http://mypuzzlecollection.blogspot.com/2014/03/square-fit.html

Lox in box

 (a.k.a. 

Rec-tangle

), Vesa Timonen -- http://mechanical-puzzles.blogspot.com/2011/10/log-jam.html
*No shipping to UK
*Actual shipping (from USA) + final 4% (5% international) handling costs will be calculated at close of auction. Note for international buyers: expect upwards of $65 internationally due to COVID, needing to fit this item in big enough packaging with tracking#.
Payments & Returns
Payment Methods

PayPal
Post Message
Sign in
to ask the seller a question.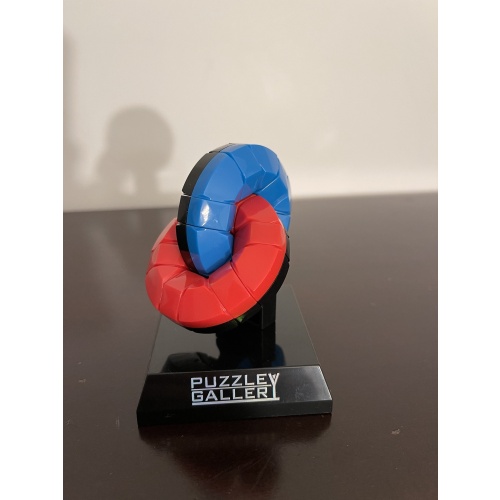 Designers: Bram Cohen & Oskar van DeventerManufacturer: Hanayama (discontinued special "puzzle gallery" series)Condition: essentially new, only displayed itThis...
monopoles (49 )
0 bids
Also known as "Straight Arrow" .. Two different copies of this puzzle, one version has a clear coverDesigner: Hirokazu IwasawaManufacturer: ThinkFun (disconti...
monopoles (49 )
0 bids
***Domestic USA shipping only***Free shipping, no additional feesDesigner: Felix UreCondition: Excellent with normal brass-wear, solved once but it took a while; no packa...
monopoles (49 )