Description
Very fun Lego puzzle. Very sturdy and smooth operation! Original owner, solved once and reset. Comes with original packaging and papers. First image is stock photo as I did not take the puzzle out of its packaging.
I am asking for Friends and Family payment. If you are not comfortable with that, just message me before bidding and I can accommodate.
Description
The goal is to find the Golden Bar inside the puzzle. You will be amazed that this puzzle requires over 30 steps to solve. Are you up for the challenge?
Measures: 4.5" long by 3.5" wide by 2" tall
Designer: QuizBrix
Material: Lego Blocks
Difficulty: 7/10
Steps: 30+
Objective: Find the Golden Bar
Not suitable for young children - small pieces present a choking hazard
Note - Black and White versions of the puzzle require the same moves to solve. The only difference is the primary color of the bricks
Payments & Returns
Payment Methods

PayPal, Other payment method (see description)
Post Message
Sign in
to ask the seller a question.
TrafficLight designed and made by CreativeWorkshop. Solved once. Comes with all paperwork including solution sheet. Below Retail too!Requesting F&F payment, otherwise...
StacyS (117 )
0 bids
Waiter's Tray by Constantin. Comes as shown in great like new condition. If you're new to this type puzzle, it's an excellent start! Retails for $26.29!PayPal Frien...
StacyS (117 )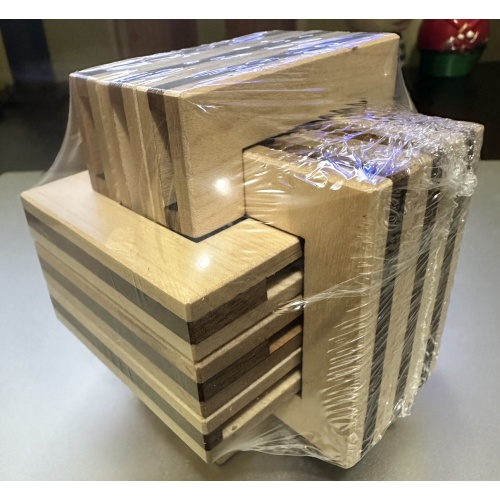 Columbus Burr by Tye Stahly. Brand new in box. Just no more room! Please wait for shipping cost prior to making payment.Prefer PayPal F&F, otherwise please message b...
StacyS (117 )
0 bids