Bananas Jon Keegan
$1,350.00
Seller Info
etrv2 (40 )
Item Location

United States

Registered Since

21.12.2019 04:08:08

Feedback

100%
| Bidder | Amount | Date |
| --- | --- | --- |
| clej1 (12 ) | $1,350.00 | 25.09.2022 02:08:02 |
| asiegel (16 ) | $1,327.00 | 25.09.2022 02:08:02 |
| asiegel (16 ) | $1,300.00 | 24.09.2022 21:53:04 |
| koskos (12 ) | $1,250.00 | 24.09.2022 20:48:27 |
| clej1 (12 ) | $1,200.00 | 24.09.2022 13:10:19 |
| Nonax (0) | $1,150.00 | 24.09.2022 13:10:00 |
| clej1 (12 ) | $1,150.00 | 24.09.2022 13:10:00 |
| Nonax (0) | $1,100.00 | 24.09.2022 13:05:18 |
| clej1 (12 ) | $1,050.00 | 20.09.2022 01:16:14 |
| Lplayer (14 ) | $1,000.00 | 20.09.2022 01:15:38 |
| clej1 (12 ) | $1,000.00 | 20.09.2022 01:15:38 |
| Lplayer (14 ) | $990.00 | 20.09.2022 01:15:29 |
| clej1 (12 ) | $980.00 | 20.09.2022 01:15:29 |
| Lplayer (14 ) | $970.00 | 19.09.2022 11:24:43 |
| clej1 (12 ) | $960.00 | 19.09.2022 11:24:43 |
| Lplayer (14 ) | $950.00 | 19.09.2022 11:24:26 |
| clej1 (12 ) | $940.00 | 19.09.2022 11:24:26 |
| Lplayer (14 ) | $930.00 | 19.09.2022 11:24:11 |
| clej1 (12 ) | $920.00 | 19.09.2022 11:24:11 |
| Lplayer (14 ) | $910.00 | 19.09.2022 02:11:59 |
| Bobbyzickefoose (2 ) | $900.00 | 19.09.2022 02:11:59 |
| Lplayer (14 ) | $860.00 | 19.09.2022 02:07:54 |
| Bobbyzickefoose (2 ) | $850.00 | 19.09.2022 02:07:53 |
| Lplayer (14 ) | $760.00 | 19.09.2022 02:07:00 |
| Bobbyzickefoose (2 ) | $750.00 | 19.09.2022 02:07:00 |
| Lplayer (14 ) | $730.00 | 19.09.2022 02:06:36 |
| Bobbyzickefoose (2 ) | $720.00 | 19.09.2022 02:06:36 |
| Lplayer (14 ) | $710.00 | 19.09.2022 02:06:23 |
| Bobbyzickefoose (2 ) | $700.00 | 19.09.2022 02:06:23 |
| Lplayer (14 ) | $660.00 | 19.09.2022 02:05:45 |
| Bobbyzickefoose (2 ) | $650.00 | 19.09.2022 02:05:45 |
| Lplayer (14 ) | $620.00 | 19.09.2022 02:05:18 |
| Bobbyzickefoose (2 ) | $610.00 | 19.09.2022 02:05:18 |
| Lplayer (14 ) | $600.00 | 18.09.2022 18:29:34 |
The listing has not been sold.
Description
Bananas by Jon Keegan. The latest from Jon, this is a really great puzzle. It has been solved a few times. Includes the box, cloth, instruction card, stand, solution guide, and puzzle. There are some very fine scratches which are typical of machined aluminum. Otherwise, it is in great cosmetic and working order. #201/225

Review:
https://fivesinatras.com/category/creator/jon-keegan/
USA - $25
Outside USA - $100+
Paypal only, please.

Payments & Returns
Payment Methods

PayPal
Post Message
Sign in
to ask the seller a question.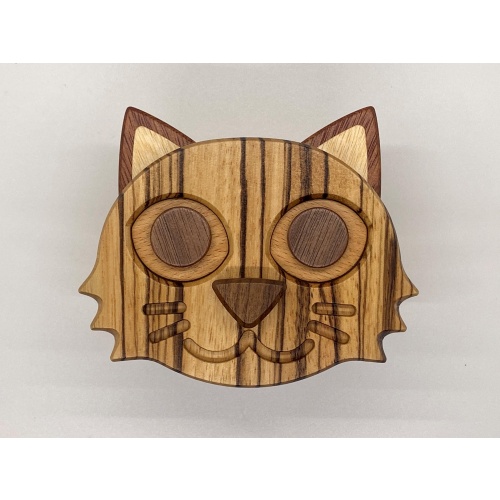 Mittan by Juno. This puzzle has some great character. I didn't find this puzzle very difficult, but it was still fun to solve. It's a good entry / intermediate level sequ...
etrv2 (40 )
14 bids