Description
In Brackets is an interlocking cube with a twist! While moderate in difficulty, the solution is so much fun you'll find yourself solving it over and over. 
Last released in 2009, this was Sam's IPP Design Competition Entry that same year. This unique puzzle combines a standard 3x3 cube with three surrounding brackets. Deciphering order and orientation of assembly are non-trivial. The solved puzzle has a unique appearance and displays beautifully.
More info: https://cubicdissection.com/products/in-brackets-interlocking-puzzle-2021?_pos=2&_sid=c75406c49&_ss=r
(Will also be shipping in sealed bag due to puzzle be susceptible to humidity changes.)

Puzzle is in Perfect condition, kept in proper humidity and waxed after use.

Paypal payments only!
*Buyer pays shipping costs and PayPal fees if not paying with F&F. I understand the importance of G&S with buyer protection just please account for PayPal fees.*
Payments & Returns
Payment Methods

PayPal
Post Message
Sign in
to ask the seller a question.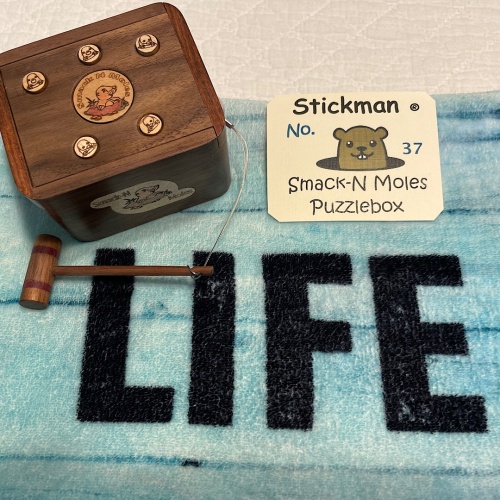 These whimsical puzzle boxes were originally designed for this year's IPP puzzle exchange, but had such charm and appeal that they warranted becoming #37 in the officia...
Kwaszak (66 )
A beautiful packing puzzle created by Alexander Magyarics and crafted by Pelikan. I would recommended getting it sent disassembled for a better challenge. It's super un...
Kwaszak (66 )