Dual Tetrahedron Interlocking Puzzle VW
45.00$
Closed
Seller Info
Mike16 (5 )
Registered Since

12.01.2017 00:41:01

Feedback

100%
Description
Crafted by Vinco, this puzzle measures approximately 2.75 x 2.75 x 2.75 inches.
Crafted in various woods.
Consists of 4 pieces that are beautifully waxed and polished.
Coordinated motions required to open this puzzle. Please note that this is quite a challenging puzzle to disassemble and reassemble. Will arrive in original box and instructional diagram.
Payment is accepted through PayPal only.  The buyer will pay the exact cost of shipping once the buyers location is declared.  
Please inquire with any questions.
Payments & Returns
Payment Methods

PayPal
Post Message
Sign in
to ask the seller a question.
This is the Limited Edition Butterfly Puzzle Box by Kagen Sound (Schaefer).This puzzle is the third  box in the trilogy including the Lotus Puzzle and Caterpillar box...
Mike16 (5 )
0 bids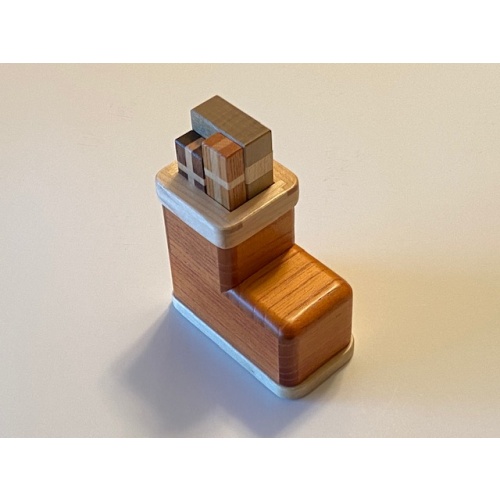 This Christmas Boots Japanese Secret Puzzle Box was designed as a Christmas present for 2020. Crafted by Yasuaki Kikuchi, this Karakuri box takes on an interesting theme...
Mike16 (5 )
5 bids