Groovy Cubes by Brian Young
€260.00
Closed
Seller Info
Gergo (150 )
Item Location

Hungary

Registered Since

20.07.2018 00:43:24

Feedback

100%
| Bidder | Amount | Date |
| --- | --- | --- |
| Nasooor (20 ) | €260.00 | 08.04.2022 10:13:52 |
| Alfonso (56 ) | €252.00 | 08.04.2022 10:13:52 |
| Alfonso (56 ) | €250.00 | 08.04.2022 10:13:47 |
| Nasooor (20 ) | €240.00 | 08.04.2022 10:13:47 |
| Alfonso (56 ) | €230.00 | 08.04.2022 09:37:44 |
| Nasooor (20 ) | €220.00 | 08.04.2022 09:31:25 |
| Alfonso (56 ) | €212.00 | 08.04.2022 09:31:25 |
| Alfonso (56 ) | €210.00 | 08.04.2022 09:31:16 |
| Nasooor (20 ) | €200.00 | 08.04.2022 09:31:16 |
| Alfonso (56 ) | €190.00 | 08.04.2022 09:31:09 |
| Nasooor (20 ) | €180.00 | 08.04.2022 09:31:09 |
| Alfonso (56 ) | €170.00 | 08.04.2022 09:21:09 |
| Nasooor (20 ) | €160.00 | 07.04.2022 12:27:04 |
| Alfonso (56 ) | €150.00 | 07.04.2022 12:26:55 |
| Nasooor (20 ) | €150.00 | 07.04.2022 12:26:55 |
| Alfonso (56 ) | €140.00 | 07.04.2022 12:24:06 |
| Nasooor (20 ) | €130.00 | 07.04.2022 02:28:55 |
| Alfonso (56 ) | €120.00 | 07.04.2022 02:18:05 |
| Nasooor (20 ) | €110.00 | 07.04.2022 02:16:04 |
| Alfonso (56 ) | €100.00 | 05.04.2022 14:21:26 |
| User | Price | Quantity | Date |
| --- | --- | --- | --- |
| Nasooor (20 ) | €260.00 | 1 | 09.04.2022 10:14:12 |
Description
Groovy Cubes interlocking cube puzzle
designed by Rick Eason made by MrPuzzle (Brian Young) size: 6x6x6 cm condition: very good goal: assemble the 8 cubicles to form a large cube. There is only 1 solution.
The puzzle will be shipped from Budapest, Hungary. Shipping costs will be calculated after bidding for the puzzle has ended. Won puzzles may be combined for shipping upon request. The preferred payment is Paypal but bank transfer within Europe is also possible.

Payments & Returns
Payment Methods

PayPal, Direct bank transfer
Post Message
Sign in
to ask the seller a question.
Rectilineardesigned by Goh Pit Khiamcrafted by Tom Lenschcondition: as newnotes: 5 challenges to find the way between 2 points on the trayThe item will be shipped from Bu...
Gergo (150 )
0 bids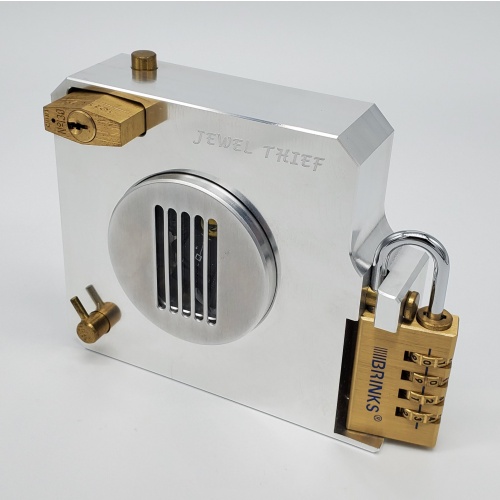 Jewel Thief#30/100designed and made by Jon Keegancondition: as new, in perfect condition, solved just once and stored in a glass cabinet, comes with the original wooden b...
Gergo (150 )
0 bids