Description
This puzzle is a wildly popular and sought-after sequential discovery puzzle designed by Wil Strijbos!  It is made of an attractive blue anodized aluminum that also bears the designers signature on the front.  In order to find the "lotus flower", you need to be able to remove the aluminum circular disc and rod.  A very difficult puzzle that keeps captivating as its solution unfolds.  Requires no magnets, no banging, no external tools, and no force in any way.  As with all of Wil Strijbos designs, this puzzle is extremely high quality, and is a coveted treasure for the puzzle collector!
"Long time ago (probably already 20 years) I created the Yen Puzzle. It is a wooden frame with a nail in it that holds a Yen Coin from Japan. Because my upgraded new creation has some other secrets in it, I thought it will be better to name it the Lotus (it sounds more mysterious:) Probably later on you will understand why. ... " - Wil Strijbos
Please note that there is a small black pin found on one end of the Lotus.  This pin must not be removed from the puzzle - (it has nothing to do with the solution) and it is there for your safety.  The Lotus is spring loaded.
Also until you know why the puzzle is called "Lotus" then it is not completely solved.
I came into this Lotus from an Ebay auction. I already had a copy of it however the auction was for 4 Wil Strijbos puzzles and I did not have and wanted the other 3. As you can see in the pictures there is some minor cosmetic wear. Where the nail head rests has some minor solving marks. Also on the front there is a <1cm scratch in the blue that reveals the silver underneath. Finally there is some pliers marks on the nail head itself. This is because when i recieved the puzzle the seller had let it sit for some time and did not try solving it again before selling. One part had rusted that prevented the part to separate. I needed to use tools to correct this. After I took it apart I used a rust removing solution and a file to remove all the rust and make it smooth again. This puzzle is now 100% functional. I have solved it personally twice. Once while fixing it and again a couple days after to make sure everything works 100%. Any other things you might see in the pictures not described here are not actual marks but just dust or particles that can be wiped away. Myself or the puzzle must've been statically charged when I was taking the picture and dust and such kept attaching to the puzzle. I think I removed it all but at bottom of puzzle in some pictures and dots or specs are not marks on the puzzle itself.
The last picture with rulers is not mine but a stock photo to show size and measurements.
This was one of the first sequential discovery puzzles I came across and now many years and tons of puzzles later this is still in my top 2 favorite puzzles of all time. It will make a nice addition to any collection or to any puzzler that wants to solve a piece of puzzle history.
After winning I will contact you to discuss the shipping cost and paypal fees (if using paypal, if using Cash App or Venmo if there are any fees) that the buyer/winner will be responsible for. Payment can be done with Paypal, Cash App, or Venmo.
Happy Bidding to you all.
Payments & Returns
Payment Methods

PayPal, Other payment method
Post Message
Sign in
to ask the seller a question.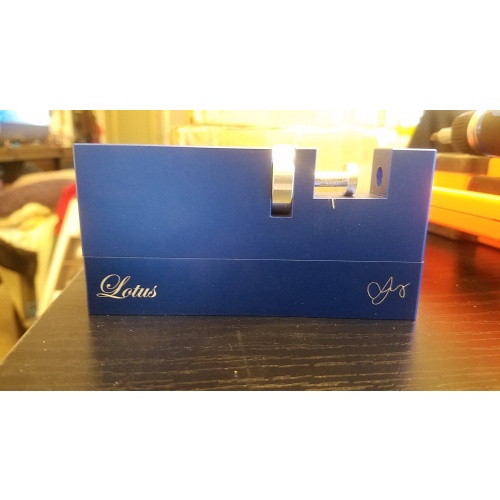 This puzzle is a wildly popular and sought-after sequential discovery puzzle designed by Wil Strijbos!  It is made of an attractive blue anodized aluminum that also bear...
PancakesPK (10 )
0 bids