Seller Info
etrv2 (40 )
Item Location

United States

Registered Since

21.12.2019 04:08:08

Feedback

100%
| Bidder | Amount | Date |
| --- | --- | --- |
| StacyS (61 ) | $570.00 | 24.09.2022 21:37:12 |
| First123 (63 ) | $560.00 | 24.09.2022 21:37:12 |
| First123 (63 ) | $541.00 | 24.09.2022 21:36:15 |
| StacyS (61 ) | $531.00 | 24.09.2022 21:36:15 |
| StacyS (61 ) | $520.00 | 24.09.2022 21:17:20 |
| First123 (63 ) | $510.00 | 24.09.2022 19:57:12 |
| StacyS (61 ) | $501.00 | 24.09.2022 19:57:12 |
| StacyS (61 ) | $473.00 | 24.09.2022 19:38:34 |
| First123 (63 ) | $463.00 | 24.09.2022 19:38:34 |
| First123 (63 ) | $441.00 | 24.09.2022 19:19:28 |
| StacyS (61 ) | $431.00 | 24.09.2022 19:10:03 |
| First123 (63 ) | $422.00 | 24.09.2022 19:10:03 |
| First123 (63 ) | $410.00 | 24.09.2022 18:14:48 |
| gwennou (40 ) | $400.00 | 20.09.2022 10:57:37 |
The listing has not been sold.
Payments & Returns
Payment Methods

PayPal
Post Message
Sign in
to ask the seller a question.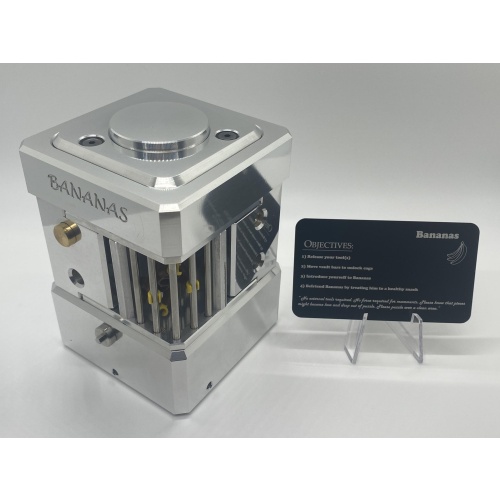 Bananas by Jon Keegan. The latest from Jon, this is a really great puzzle. It has been solved a few times. Includes the box, cloth, instruction card, stand, solution guid...
etrv2 (40 )
34 bids