Ticket Japanese Puzzle Box by Tatsuo Miyamoto
$475.00
Closed
Seller Info
Mike16 (19 )
Item Location

United States

Registered Since

12.01.2017 00:41:01

Feedback

100%
| Bidder | Amount | Date |
| --- | --- | --- |
| puzzledick (12 ) | $475.00 | 28.01.2022 08:48:29 |
| gudrbso (8 ) | $465.00 | 27.01.2022 15:11:46 |
| puzzledick (12 ) | $455.00 | 27.01.2022 15:11:36 |
| gudrbso (8 ) | $455.00 | 27.01.2022 15:11:36 |
| puzzledick (12 ) | $445.00 | 27.01.2022 08:07:44 |
| gudrbso (8 ) | $435.00 | 27.01.2022 08:07:29 |
| puzzledick (12 ) | $425.00 | 27.01.2022 08:07:29 |
| gudrbso (8 ) | $415.00 | 26.01.2022 16:32:25 |
| puzzledick (12 ) | $405.00 | 26.01.2022 16:32:13 |
| gudrbso (8 ) | $405.00 | 26.01.2022 16:32:13 |
| puzzledick (12 ) | $395.00 | 26.01.2022 16:32:00 |
| gudrbso (8 ) | $385.00 | 26.01.2022 16:32:00 |
| puzzledick (12 ) | $375.00 | 26.01.2022 16:31:44 |
| gudrbso (8 ) | $365.00 | 26.01.2022 16:31:44 |
| puzzledick (12 ) | $355.00 | 26.01.2022 14:10:16 |
| gudrbso (8 ) | $350.00 | 26.01.2022 14:10:16 |
| gudrbso (8 ) | $325.00 | 26.01.2022 10:40:15 |
| puzzledick (12 ) | $315.00 | 26.01.2022 10:40:15 |
| gudrbso (8 ) | $305.00 | 26.01.2022 00:12:55 |
| PlasticPower (92 ) | $295.00 | 20.01.2022 00:41:49 |
| User | Price | Quantity | Date |
| --- | --- | --- | --- |
| puzzledick (12 ) | $530.00 | 1 | 29.01.2022 08:49:06 |
Description
This work was designed for an exhibition with the theme of "Story".
Designed in April 2018, this puzzle was available to Karakuri lottery winners.
Can be opened in only a few steps.
Measures approximately 5.12 x 2.36 x 1.97 inches (130×60×50 mm)
Secret space is approximately 2.32 x 1.34 x 1.30 inches (59×34×33 mm) 
Comes in Gift Box and Opening Diagram!
Payment is accepted through PayPal or Bitcoin.  The buyer will pay the exact cost of shipping once the buyers location is declared.  
Please inquire with any questions.

Payments & Returns
Payment Methods

PayPal
Post Message
Sign in
to ask the seller a question.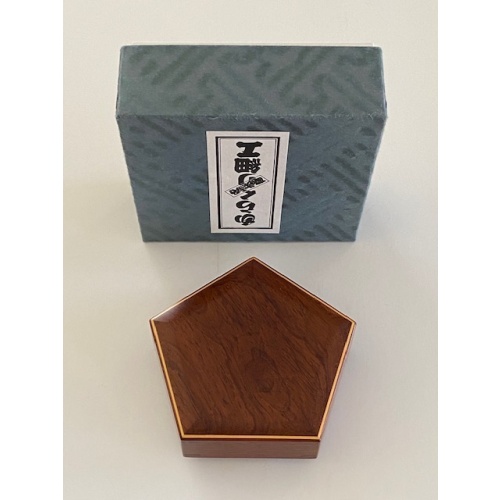 Here is your chance to own a sought after STAMPED Pentagon Puzzle Box by Akio Kamei!This is NOT a reproduction and will arrive in the original box and solution card!Being...
Mike16 (19 )
11 bids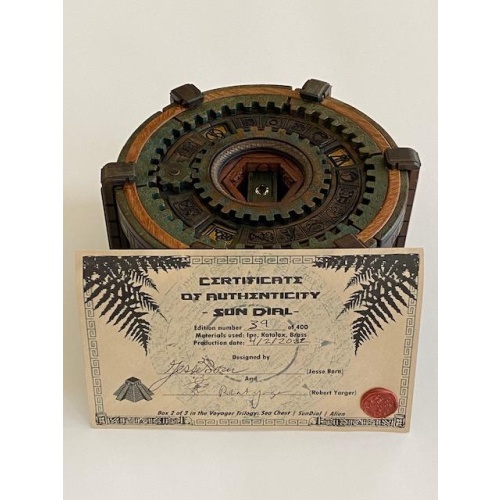 Up for auction is the Jesse Born SunDial Puzzle Box!The crafter describes this amazing work in the following manner, "The SunDial puzzle box is the Sequel to the Sea...
Mike16 (19 )
8 bids