Visible Famed Burr Puzzle by Pluredro (Junichi Yananose -Juno)
90.00$
Closed
Seller Info
Mike16 (10 )
Registered Since

12.01.2017 00:41:01

Feedback

100%
Description
This puzzle is called the Visible Framed Burr and was released in 2017. This piece has NEW and was never played with!  The crafter describes this puzzle in the following manner, 
"This is another variation of Framed Burr.
Unlike ordinary Framed Burrs, the checkouts of each piece can be seen from the outside when the puzzle is completely assembled. Thanks to the feature of the shape of the frame, the puzzle requires some very tricky 24 moves to take the first piece apart.
Juno had the original idea of Visible Framed Burr in 2012 and he has been occasionally thinking of how to make the puzzle to have a unique solution. If you input the shape of pieces of the picture below into the puzzle solving program like BurrTools, it will find 34 solutions and most of them could be solved by two or three moves. Using several colors for the pieces is one of the solutions but Juno took a different option to make the puzzle have a unique solution. The modification to the pieces gives you a big hint to find out the orientation of the pieces but even if you know the orientation, the puzzle is diabolically difficult.
Reinforcement Jarrah pieces were inserted to the ends of the top and bottom panels and it prevents cupping deformation of the panels. The joints of the posts to the panel are recessed to keep the accuracy of the dimension of the frame."
The puzzle is sold assembled. The printed solution of the puzzle is enclosed.
---
Size: 85mm x 85mm x 54mm
Number of pieces: 5
Material: PNG Rosewood, American Walnut, Utile and Jarrah
Designer: Junichi Yananose (Juno)
Origin: Made in Australia
Buyer to pay exact amount for shipping.  Ships from Minnesota.
Payments & Returns
Payment Methods

PayPal
Post Message
Sign in
to ask the seller a question.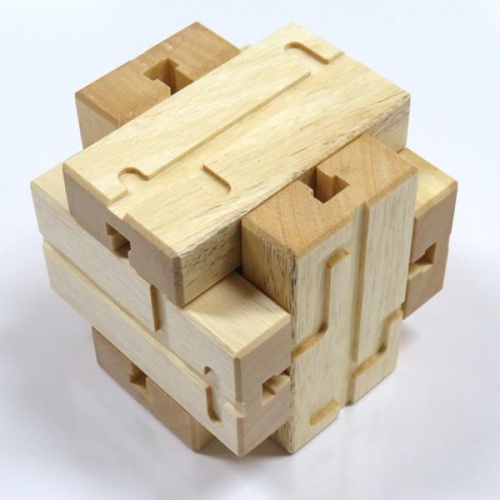 This Puzzle is in NEW condition and never taken out of the original packaging or played with!If you would like to have an interlocking burr puzzle that is something diffe...
Mike16 (10 )
0 bids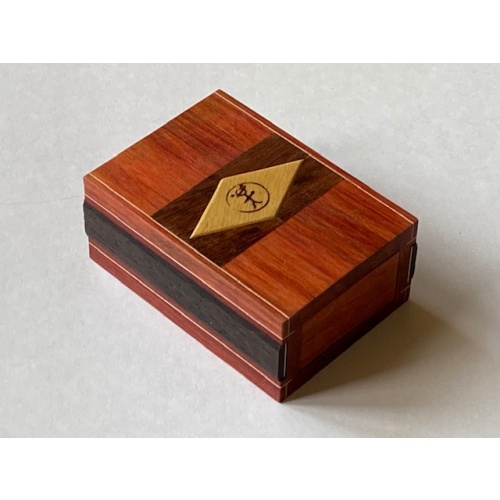 Up for auction is an extremely rare Matchbook Puzzle Box.Smaller in size, the Matchbook Puzzle, by Robert Yarger measures 4 x 2.5 x 1.5 inches, The goal is deduce the op...
Mike16 (10 )
6 bids