Description
Waiter's Tray by Constantin. I believe this is a N-Ary type puzzle. Comes as shown in great like new condition. These are still available retail so don't overbid!
Friends and Family payment please, otherwise, just message me before bidding. $5 to $8 shipping in US

Description 
The Waiter's Tray: A bottleneck of a puzzle...
Can you move the bottles in such a way, that the waiter can remove his tray underneath? You will need to move the bottles up and down to gradually slide out the tray. Bottles may need to be moved more than once and are sometimes locked till you move the balls holding them in place.
Comes in a black wooden crate-style display box.
Part of the Constantin Puzzles series.  Jean Claude Constantin is unquestionably one of the most prolific puzzle inventors of the past 30 years.  His unique and diverse puzzle creations are renowned for their beautiful designs and challenging solutions.
IQ Focus: Spatial Reasoning, Logic, Strategy
Inventor: Jean Claude Constantin
Brand: Recent Toys
Ages: 14+
Payments & Returns
Payment Methods

PayPal, Other payment method (see description)
Post Message
Sign in
to ask the seller a question.
Waiter's Tray by Constantin. Comes as shown in great like new condition. If you're new to this type puzzle, it's an excellent start! Retails for $26.29!PayPal Frien...
StacyS (116 )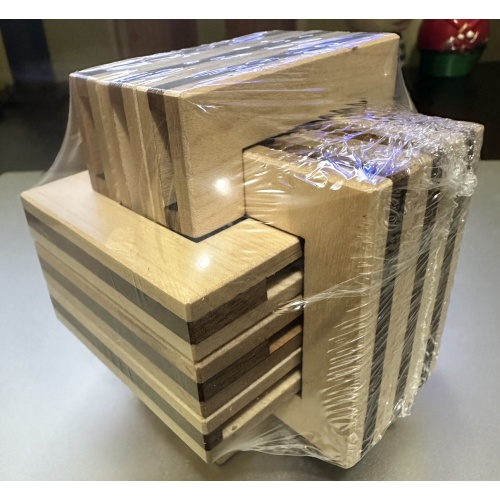 Columbus Burr by Tye Stahly. Brand new in box. Just no more room! Please wait for shipping cost prior to making payment.Prefer PayPal F&F, otherwise please message b...
StacyS (116 )
0 bids
TrafficLight designed and made by CreativeWorkshop. Solved once. Comes with all paperwork including solution sheet. Below Retail too!Requesting F&F payment, otherwise...
StacyS (116 )
0 bids